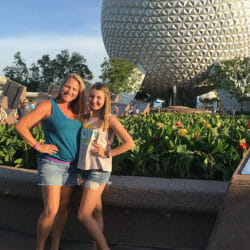 Imagine yourself rounding the corner onto Main Street USA right after rope drop, seeing Cinderella's Castle for the first time, Mickey balloons floating in the air, cast members everywhere with the biggest smile on their face, the welcome music playing all around you. Then you look down and see the smiles on your little one's faces as they take it all in. That is just one of the magical moments you will feel when you enter the Happiest Place on Earth!
Hi, I'm Dawn from Kansas City, Missouri. I have been a Disney fanatic for many years. Lucky for me, my love for Disney is shared with my husband and my three girls. We have enjoyed the most Magical experiences at WDW and Disney Cruise Line. Along with celebrating with Mickey at Halloween and Christmas. We have enjoyed many of the fantastic restaurants they offer, best of all was the Taste of Epcot festival.
A Disney vacation is magical whether you are traveling to Walt Disney World, Disneyland Resort, or sailing on Disney Cruise Line! Whether it be your first time or your 100th, I would love to help you plan your fantastic vacation. By listening to your vacation desires and using my knowledge, we can put together the perfect plan for your vacation that everyone will love, so you can create memories to last a lifetime!