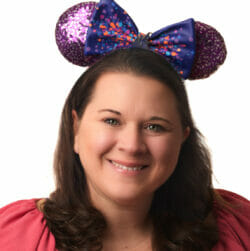 As a child growing up I always dreamed of going to Disney World. I never dreamed my Prince Charming would give me the last name Disney. Naturally, we spent our honeymoon at Disney World. During our trip we dreamed of the day we would start to bring our own children to Disney and share our love with them. Since then we have spent vacations at Disney World and Disney Cruise Line. We have vacationed at Disney World with and without kids and cruised as a family on 3 of the 4 ships in the Disney Cruise Line fleet with the 4th booked.
As a strict budget conscience mom I plan and save for every Disney Trip we take. I consider all the costs and plan out the most effective way to experience everything we want while staying within our budget. I will work to do the same thing for you. I will also continually monitor for discounts that become available. If a discount becomes available for your travel period after you have booked with me, I will contact Disney and get the discount added to your vacation.
I love Disney so much that just talking about it brings a smile to my face. Helping to plan a Disney Vacation brings me so much joy. I look forward to sharing my passion and excitement with you as I help create a magical vacation for you. My Services are complimentary and begin as soon as you request a quote and will continue until you return home from your trip. I can book Disney World, Disney Cruise Line, Adventures by Disney, Aulani and Disney Resort, and so much more. Contact me for a free quote.